Diamond Guide & Standards
Only the highest grade diamonds get hand-selected for Michael Wilson jewellery. We use expertly crafted diamonds that have been cut and polished to the highest standards. For over 30 years, our artisans have unleashed the full vibrancy of each hand-picked diamond through exquisite design and craftmanship.
highest standards
Our managing director, Aaron Wilson specialises in choosing diamonds that not only look good on paper, but more importantly, look bright and brilliant to the eye. Aaron is regularly in the gallery and available for private appointments to personally help you find a diamond that is just right for you.
When you purchase an article of diamond jewellery designed and made in our workshop, you can be assured that the highest standards of materials and craftsmanship are employed in its making. To support this, each article is stamped with the Designers Makers' Mark and the Metal Purity Mark. You will also be issued with a valuation and independent laboratory certificate.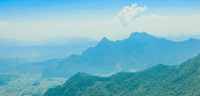 ---
For your peace of mind, please know that all Michael Wilson diamonds are ethically sourced, compliant with the Kimberley Process and guaranteed conflict free. Because we respect the natural world and human rights, we only source diamonds that can be traceable to their origin.

selecting your diamond
The purchase of diamond ring is a significant event. It requires an emotional connection with the piece that will express the wearer in a creative and individual way. Buying a diamond can be a daunting experience, but it doesn't need to be. It is important to have a bright, quality diamond and the honest opinion of a passionate expert and jeweller.
Always remember the most important aspect of your diamond is its appearance. During that special moment, all that matters is that the recipient has a ring that they love.
The Four Cs
Here is a guide to help you understand how diamonds are graded. All colourless diamonds are evaluated by considering the four following properties of each diamond, the Four Cs – cut, colour, clarity and carat.
---
Cut
The most important property to a diamond is the cut. The cut does not refer to the shape of the diamond – whether it's square or round – but how well it reflects the light and how much it sparkles. If not cut skilfully, and in the correct proportions, a diamond will not reveal its full beauty.
---
Colour
Colour is also important and refers to how the diamond compares on a scale from colourless to slightly yellow. Ideally a diamond has no colour at all.
---
Clarity
Clarity is the measure of a diamond's purity. All natural diamonds have traces of their growth history, as they are a product of nature. Ideally these inclusions are not visible to the naked eye.
---
Carat
Carat is the measurement of weight for the stone. 1 carat = 0.2 grams