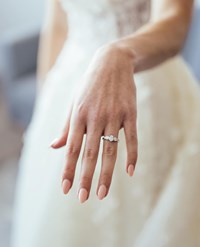 popular Engagement Ring Styles for 2023
---
Azena ring. Credit: Motta Weddings.
---
1. Elegantly oval
Taking centre stage this year is the most elegant of shapes, the oval diamond. Offering romance and sophistication, an oval cut engagement ring radiates brilliance and style like no other.
Suiting both simple and fancy designs, oval diamonds lend themselves to endless possibilities including the most sophisticated solitaires, vintage styles with sprays of dainty side pear diamonds, glamorous diamond shoulders or accents of rare coloured diamonds.
An oval diamond has the fiery brilliance of the popular round brilliant cut diamond, casting light out in a glittering display, like millions of diamonds moving through water. Its elliptical shape looks as stunning in a high quality diamond as it does in a sensually rich, velvety violet-blue sapphire.
---
Our popular Azena, with its side pear diamonds, has a deep connection with lovers. Couples looking for a trilogy ring, love the symbolism of Azena's three stones, representing the past, present and future of a relationship's journey.
Azena's side pear diamonds add to the flattering aspect of the oval centre stone, drawing attention to the hand.
Pairing a centre oval pink sapphire or a ravishing ruby with Azena's side diamonds, accentuates each gem's beauty. Just like partners complement each other – this is where design can truly reflect the symbolism of togetherness.
---
Our Aria solitaire features an oval cut diamond that shines like your everlasting love. Its name is symbolic of the song that love makes in your heart.
Flawlessly hand-crafted, the Aria's four-claw setting holds the masterfully cut oval diamond that radiates, projecting brilliant light out like love between lovers.
Contrast with a fine diamond band, our Aria creates a look of striking simplicity. Set with a handpicked sapphire, our Aria is breathtaking.
Discover our Aria Enquire Now Book Appointment
---
2. Timeless Solitaires
The iconic solitaire is symbolic of some of history's greatest love stories. Diamond solitaire engagement rings have stood the test of time, with the brilliance of the diamond as their main attraction.
Classic six-claw settings are most popular, typically cradling a round brilliant cut diamond, making it appear almost like a floating drop of scintillating light.
The uncomplicated beauty of a solitaire ring appeals to those who appreciate a classic, clean look and the intense sparkle of a brilliant cut diamond.
Lovingly crafted, our solitaire designs will be one of our most sought after styles in 2023, with our six-claw Alea being our all-time most loved engagement ring design.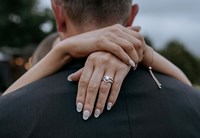 At Michael Wilson diamond jewellers, we match beauty and design with personalities, creating an expression of your passion as a timeless symbol of your union.
Aria ring with round diamond. Ring set features marquise and round diamonds and a dainty pear fitted band. Credit: Chamore Creations.
3. PAssionately pink
The rarity and intriguing beauty of Argyle pink diamonds makes them one of the most coveted gems on the planet. The rarity of pink diamonds increased overnight in 2020 when the Argyle mine in Western Australia, where 90% of the world's pink diamonds were sourced, ceased its production.
Pink diamonds speak of romance, featuring soft blush tones. Their captivating beauty brings an almost ethereal feeling to an engagement ring, while also exuding a sense of luxury and mystique.
There is something incredibly romantic about the soft pink hues of this rare and desirable diamond. Often set in rose gold to enhance its colour, pink diamonds can become the feature or the accent of your engagement ring design.
Because the supply of pink diamonds is almost over, much of what is available are smaller brilliant round pink diamonds. Designs that are most fitting for these precious gems are those that bring together white diamonds with pinks.
Halos, solitaires with diamond shoulders, three stone trilogy rings or art-deco pieces with intricate milgrain detailing, all work well for round pink diamonds. These designs allow the pink diamonds to feature, even though they are not always the largest stone in the design.
There are very few pink diamonds left worldwide, yet we are one of the few jewellers in Australia with some of the last remaining Argyle pinks.
An Argyle pink diamond engagement ring is an exceptional choice indeed. If you've ever wanted to own a pink diamond, now is the time to consider purchasing one.
Discover Our Argyle Pink Diamond Collection
In recent years, we have handcrafted more pink diamond engagement rings than any other time in history. We believe this trend will continue through 2023 until there are no pink diamonds left.
4. In Love with colour
With their captivating hues and character, coloured gemstones have renewed their place in the engagement ring market. Radiant rubies and dazzling sapphires - in all the colours of the rainbow - are beguiling and mesmerising, offering depth of colour and the opportunity to express personality, originality and passion.
Glamorous vivid coloured diamonds, with their startling beauty, are also carving out a niche in engagement ring sales. Vivid yellow diamonds are the world's most valuable yellow gemstone. Rare and utterly divine, yellow diamonds represent love, commitment and joy.

From dainty pear shapes to stylish ovals, coloured gemstones are beautiful in almost any cut or design. Older style cuts, like the charming yet bold cushion cut, are making a resurgence, and look exceptionally stunning for sapphires.
Breathtaking pink, green and purple sapphires add vibrancy and vivacity to your love story. Intricate and elegant vintage flare, featuring deep character-filled rubies or vivid coloured diamonds, reflect timeless style and a love of design and beauty.
From classic to modern designs, Michael Wilson engagement rings are lovingly handcrafted onsite by our team of jewellers.
A lover of rare and unusual gemstones, our general manager, Aaron Wilson travels the world in search of the rarest and most precious coloured diamonds and gems.
A qualified diamond grader, Aaron hand selects all the gemstones required for our exquisite and distinctive gemstone engagement rings.
Talk to us about creating unique twists on traditional designs like solitaires and trilogy rings, featuring sumptuous oceanic blues, plush pinks and delicious champagne hues.
Discover More Enquire Now Book Appointment
In 2023 we are expecting to craft more custom-made engagement rings than ever before. Lovers are seeking something unique, something that reflects their love, their creative and artistic expression, even their cultural heritage.
Many of our clients come to us with a vision of their dream engagement ring. Others come with a collection of inherited stones or jewellery that they'd like to remodel into an engagement ring.
Brides-to-be may have a particular diamond carat size or diamond shape in mind, but haven't yet discovered a style that makes their heart leap. Some couples are drawn to a particular style, diamond cut or gemstone, often because of an emotional or sentimental connection.
Together we shape memories, feelings and dreams into beautiful bespoke pieces that capture the character and uniqueness of a couple's love for each other.
If you're looking to replicate the opulence of old-world charm with an art-deco cluster ring or if you'd like to mix trends to create a fusion of vintage daintiness that speaks to modern tones, our team can help create a ring that reflects your vision.
Gender-neutral designs are also emerging with styles that are bolder, sometimes featuring black diamonds or coloured diamonds, wider bands, less dainty and can be worn by anyone.
Whether it be contemporary or classic, or antique inspired with irregular rose cut diamonds, perhaps an elaborate fancy cocktail style, our team will work with you to design a ring that is uniquely yours.
Creating symbols of love that are as unique and precious as your everlasting love is what we are passionate about.
Talk to us about your dreams.
Discover Our Bespoke Process Enquire Now Book Appointment